On August 17, 2017, the monthly management working meeting of Haixin Group was held on the 3th floor of the Group headquarters. About 26 people including Group leaders and the heads of sectors attended the meeting.
This is the monthly meeting and was presided over by President Ying Zheng. The Financial Controller reported the business data of July, and the head of each sector reported the progresses of recent projects and the completion statuses of the work. President Ying and Secretary Yu heard the report, knew the performances in July, analyzed and researched the status quo and problems, and proposed solutions to ensure the full completion of the annual tasks and targets.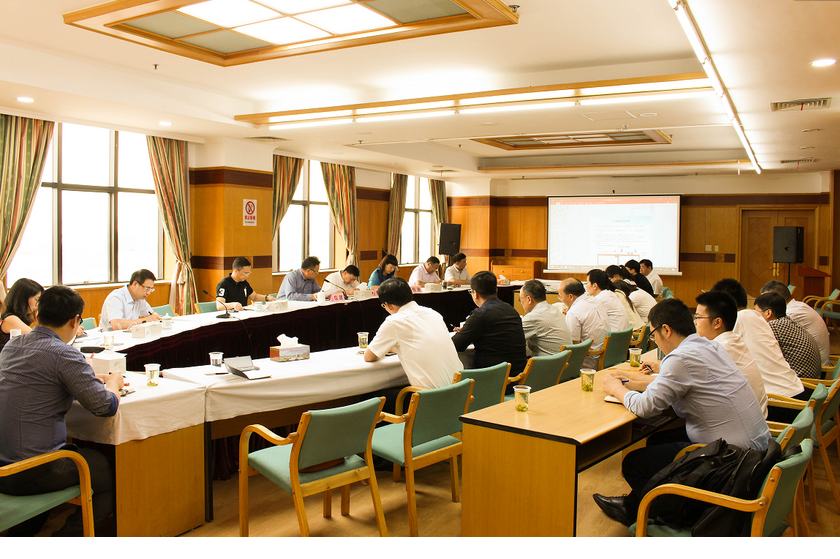 The Financial Controller detailed the economic operation of last month, in particular, the continuous growth of textile enterprises' operating income and net profit, and the obvious loss reduction of enterprises being shut down; the Disposal Office reported the work of chasing accounts receivable and inventory disposal; Haixin Construction and Strategic Investment Department also reported the progresses of recent projects and promotion situations.
President Ying Zheng made a summary statement on the basis of the reports of sector heads. As for the work of Disposal Office, Ying Zheng stressed that the Disposal Office should establish a system of accounts receivable management and incentives to encourage chasing for the Group, find out the formation time of accounts receivable and the main responsible persons, and implement the accountability. In addition, according to the industry sector, it should establish a periodic check, report, supervision and control system of receivables, and a system to resolve the annual goal of the accounts receivable for tracking and managing them monthly, so as to control the accounts receivable from the beginning. Similarly, for the inventory disposal, the employees with outstanding performances in inventory disposal could be rewarded, and in order to prevent the accumulation of inventory, the personnel of the Disposal Office should visit the enterprises from time to time, understand the relevant circumstances of the enterprises and put forward corresponding comments and suggestions.
After the reports of the heads of the sectors, President Ying made a concluding statement. He pointed out that all the work of the Group was actively promoted, and the responsible leaders and departmental leaders should actively solve the problems of the work in the first half of this year. At the same time, he pointed out that, as long as all the employees are determined to make full use of all available resources and forge ahead corporately, we can overcome the difficulties and face challenges successfully.
The meeting was successfully completed.